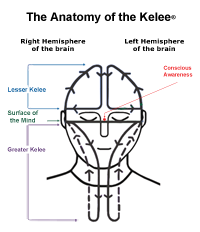 How Kelee® Meditation Helps Medical Providers
Detach From Internal Stressors & Other Distractions
Kelee Meditation can Reduce the Potentially Negative Impact of the Following:
Patient Care Challenges
Administrative Burdens
Work-Life Issues
Conference Date:
Saturday, March 2nd
8:30 am to 3:00 pm
Improve job focus and efficiency.
Free yourself from daily distractions.
Find better fulfillment when working with patients and at home.
Expand your understanding of the difference between the brain and the mind from a Kelee Medicine perspective.
Learn the Basic Principles of Kelee meditation and the Anatomy of the Kelee.
Experience the 5-minute Kelee meditation in break-out groups followed by a Q&A session to enhance learning.
Location:
UC San Diego
Telemedicine Building
Lower Level Auditorium
Target Audience:
Healthcare Providers
Details:
Breakfast and lunch will be provided.
Early Bird Cost: (Until February 15th): $100
After February 15th: $125
(Note: We've recently received a partial donation for this event and passed along a reduced price.)

Click on yellow Pay Now link
After payment, click on RETURN TO VENDOR to see the detailed Conference Agenda.
Course Description:
The practice of Medicine can be quite challenging for medical providers. There are many daily stressors (including challenges with direct patient care, administration, insurance issues, prior authorizations, and electronic medical records, to name a few) that can affect us both mentally and physically. These stressors are a form of external distractions. Distractions are a very common occurrence in life. However, being distracted (either by things external to you or by your own internal negative brain chatter) affects everyone's quality of life. In the world of Medicine, the cost of distractions can be high as medical errors can occur and our own wellness suffers. It is well known that medical provider wellness has been declining and that burnout has risen dramatically in recent years. Many strategies have been utilized to help medical providers cope with distractions that lead to stress, anxiety, depression, and burnout. But does coping actually work?
Kelee meditation (KM) is a unique, brief 5-10 minute meditation practice performed twice daily. In KM, the goal is to practice attaining stillness of mind, which is strictly defined as the absence of distraction from thinking/brain chatter and distraction from the 5 physical senses. This is achieved by learning how to get out of brain function (associated with the thinking process, brain chatter, and the 5 physical senses) and open up to mind function, associated with a mental feeling process. To perform KM, one needs to become familiar with the four reference points associated with the Anatomy of the Kelee, which can be felt and experienced with practice.
Understanding the Basic Principles of the Kelee will help individuals become aware of the concept of compartmentalization in the mind. Compartments are known as our buttons, baggage, issues or attachments, which cause distractions in our lives. With KM practice, one can learn to operate in mind function and begin the art of healthy detachment or non-distraction by moving from 2-pointed attachments to 1-pointed stillness without attachments. KM is innovative in that it challenges the paradigm of coping with difficulties in life. As your compartments, i.e., distractions begin to dissolve by doing the KM practice, learning to cope is no longer necessary. Learn Kelee meditation and free your mind. 
Learning Objectives:
The learning of objectives of this interactive, experiential symposium are:
To review the Anatomy of the Kelee and the Basic Principles of the Kelee and how Kelee meditation works to reduce and eliminate internal stressors and distractions.
To learn how to perform Kelee meditation.
To recognize the implications of Kelee meditation for healthcare providers.

Daniel Lee, MD: Keynote Speaker, started practicing Kelee meditation in December of 2005 after a breakup in a personal relationship.  Due to beneficial improvements in overall well-being in his own life as a result of Kelee meditation, Dr. Lee recognized that his own difficulties with stress, anxiety, and depression were not different than the issues faced daily by his patients.  He then decided to study the effects of Kelee meditation on stress, anxiety, and depression in his HIV+ patient population. The quantitative data was published, but he continues to work on publishing the qualitative data from this study, in addition to finishing a UCSD RN burnout study using Kelee meditation. Along with Dr. Amy Sitapati and Dr. Ankita Kadakia, Dr. Lee is teaching MED 249, an elective class for UCSD medical and pharmacy students, focused on utilizing Kelee meditation to help students deal with stress, anxiety, and depression, which in turn will help prevent future burnout. Dr. Lee has now been practicing Kelee meditation for over 12 years and lectures around the country about how Kelee meditation can help with reducing stress, anxiety, depression, and burnout.
Amy Sitapati, MD: Panel Member/Speaker is Clinical Professor of Medicine at the UCSD Department of Medicine and Biomedical Informatics with Board Certification in Clinical Informatics and Internal Medicine. Dr. Sitapati serves as Chief Medical Information Officer of Population Health for UCSDH. In order to deepen her understanding of the mind-body connection, Dr. Sitapati began the study, research, and training of Kelee meditation nearly 10 years ago. Her background includes experience in integrative healing arts including Kelee Meditation, yoga, acupuncture, and massage. Dr. Sitapati serves as a co-instructor for the Medical School course at UCSD called Understanding the Application of Meditation to Medicine. Dr. Sitapati has applied her knowledge of meditation to both provide the patient with complementary options for healing as well as to improve physician-patient communication. As a survivor of breast cancer, she has personally experienced the application of meditation to medicine in her journey of survivorship.
Sanjeev Bhavnani, MD: Panel Member/Speaker is a physician-scientist at Scripps Clinic and Research Foundation where he is also the principal investigator of the Healthcare Innovation Laboratory. As a cardiologist, Dr. Bhavnani uses his practice and knowledge of The Kelee to help patients with various cardiac conditions by exploring their own inner healing.  Being a student of The Kelee, he has ongoing interests with how conventional medicine and the practice of detachment come together to promote well being, improve patient-physician interactions, and physician-to-physician relationships. In addition to patient care, learning to be harmonious with oneself and a clarity of thought has enabled Dr. Bhavnani towards scientific discovery.
Ankita Kadakia, MD: has been practicing Kelee meditation since 2013.  Diagnosed with Systemic Lupus Erythematosus during her residency training she struggled with her health until she began practicing Kelee meditation. Since starting Kelee meditation she has learned to take charge of her own health and uses Kelee meditation to teach her patients how to take charge of their health.  Dr. Kadakia along with Dr. Daniel Lee has taught Kelee meditation to UCSD medical students, internal medicine residents, and staff and patients of the Owen Clinic in order to help reduce the burden of burnout in medicine. After 5 years of Kelee meditation, Dr. Kadakia continues to enjoy the benefits of a less stressful work and home life as part of her work-life balance.
Ron W. Rathbun: Special Guest Speaker, Founder of the Kelee and Kelee meditation. He is also the President and Founder of the Kelee Foundation a non-profit organization. Ron's mentor was a retired professor from Cal Tech, who had two PhDs and three master's degrees. Ron studied and consulted with his mentor about the inner workings of the Kelee for 28 years.
Facilitator: Nikki Walsh, MBA teaches Kelee meditation at the UCSD Rady School of Management. As a biochemist and business person, she teaches this practice with the goal of improving their efficiency at work and living healthier lives. She has been practicing Kelee meditation for over 20 years.
Kelee Instructor: Frank Silva, MPH, was the instructor for the Kelee Meditation Medical Study that demonstrated Kelee meditation leads to statistically significant improvements in stress, anxiety, and depression. He is a substitute lecturer for UCSD School of Medicine, MED 249: Understanding the Application of Meditation to Medicine.
Kelee Instructor: Louis Sands, MBA has been a Kelee meditation practitioner since 1998. He teaches a Kelee meditation class to nurses at UCSD Healthcare to assist with job burnout and compassion fatigue.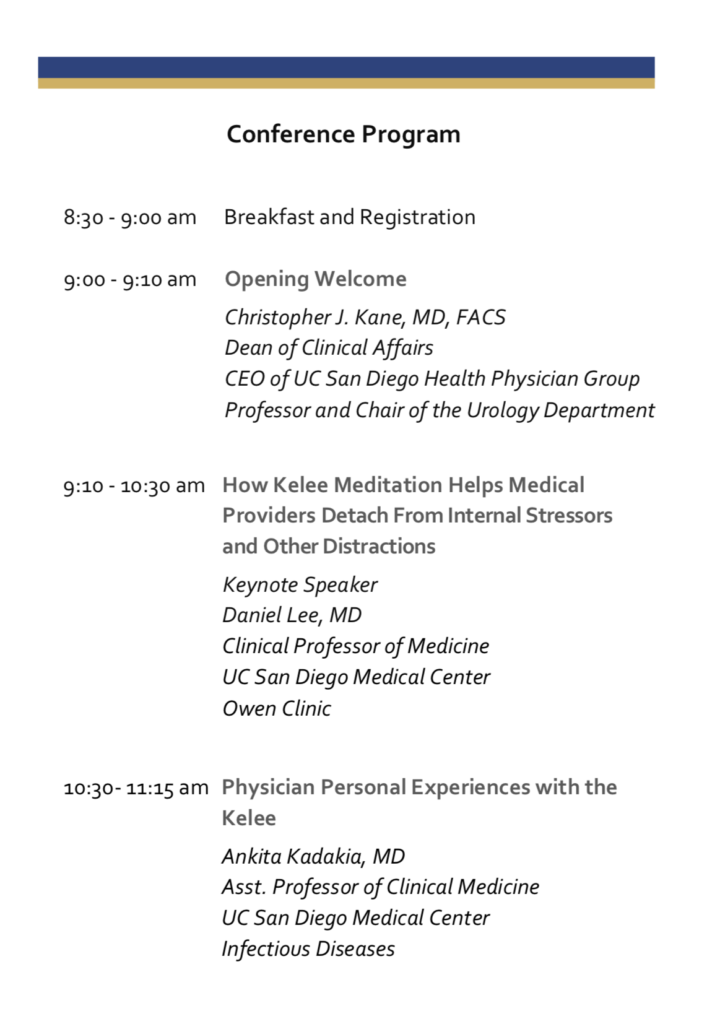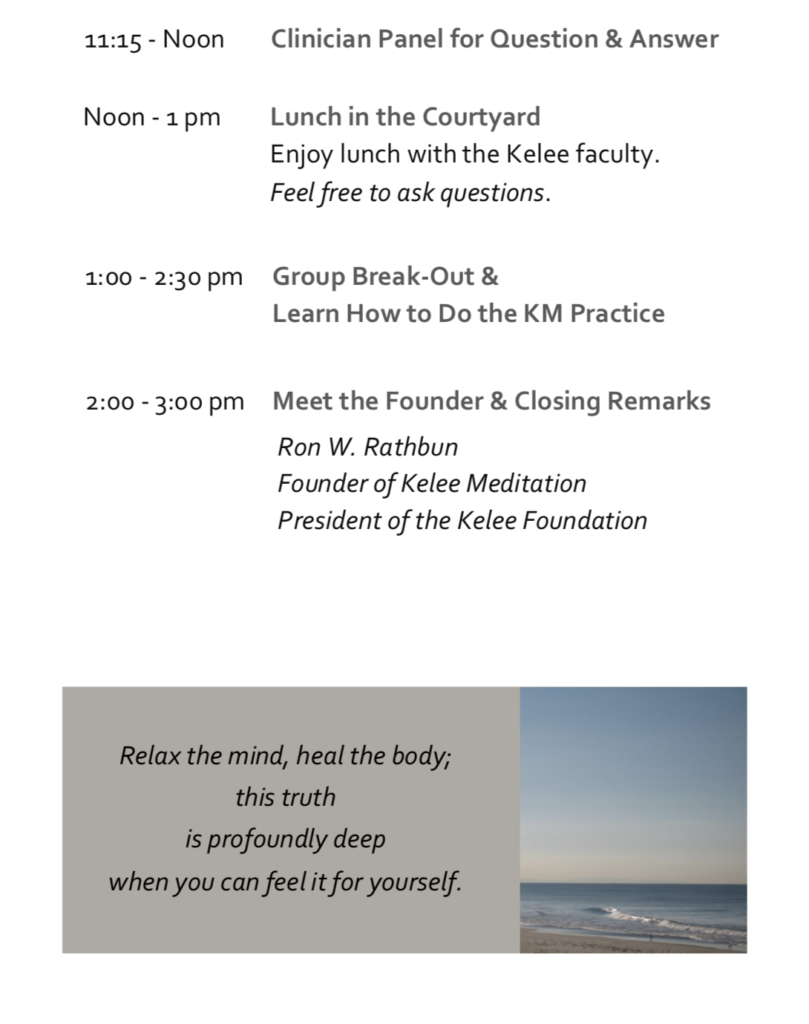 Location:
UC San Diego Telemedicine Building (845)
In the LOWER LEVEL Auditorium just past the courtyard
University of California, San Diego
9500 Gilman Dr.
La Jolla, CA 92093
Parking:
Available in campus lots with the closest lot P602
Questions?
Contact the Conference Coordinator: nwalsh@thekelee.org
Hotel Option:
(about 0.75 mile from the campus on the same main road) nearby include: